Transformative Technology for Correcting Gene Function in vivo
Over 5,000 human diseases are known to be caused by mutations in a single gene. Many of the mutations could be corrected by the precise addition of repair templates.
Scientists have focused primarily on using repair templates with the homologous recombination pathway – a pathway that is plagued with low efficiency, particularly in non-dividing cells. BlueAllele is developing next-generation repair templates that are primarily compatible with the non-homologous end joining pathway (NHEJ) — an alternative pathway that is highly active in most cell types, including non-dividing cells.
BlueAllele has developed its PALIDON® platform systems utilizing the NHEJ pathway to achieve gene correction that is precise, durable and capable of addressing a broad range of both loss-of-function and gain-of-function monogenic diseases.

PALIDON®: Our Advanced Repair Template Technology
BlueAllele's PALIDON® repair templates feature a palindromic, bi-directional structure that is designed to leverage the high rate of non-homologous end joining (NHEJ) repair observed in cells, while preserving the ability to achieve precise correction of damaged mRNA and protein.
PALIDON® repair templates are designed to be compatible with existing gene-editing nucleases and delivery systems, making PALIDON® particularly suitable for targeting an expansive number of loss-of-function and gain-of-function monogenic diseases.
PALIDON® Transformative Technology for Correcting Genes

PALIDON® templates are engineered to carry DNA for correcting gene function.
PALIDON® templates are delivered to cells together with a nuclease. The nuclease is designed to target an intronic sequence within a gene-of-interest.
PALIDON® is integrated into the intron within the gene-of-interest. Integration can occur via the NHEJ pathway in forward or reverse orientation.
PALIDON® precisely corrects the function of the gene-of-interest.
Transformative Gene Correction Technology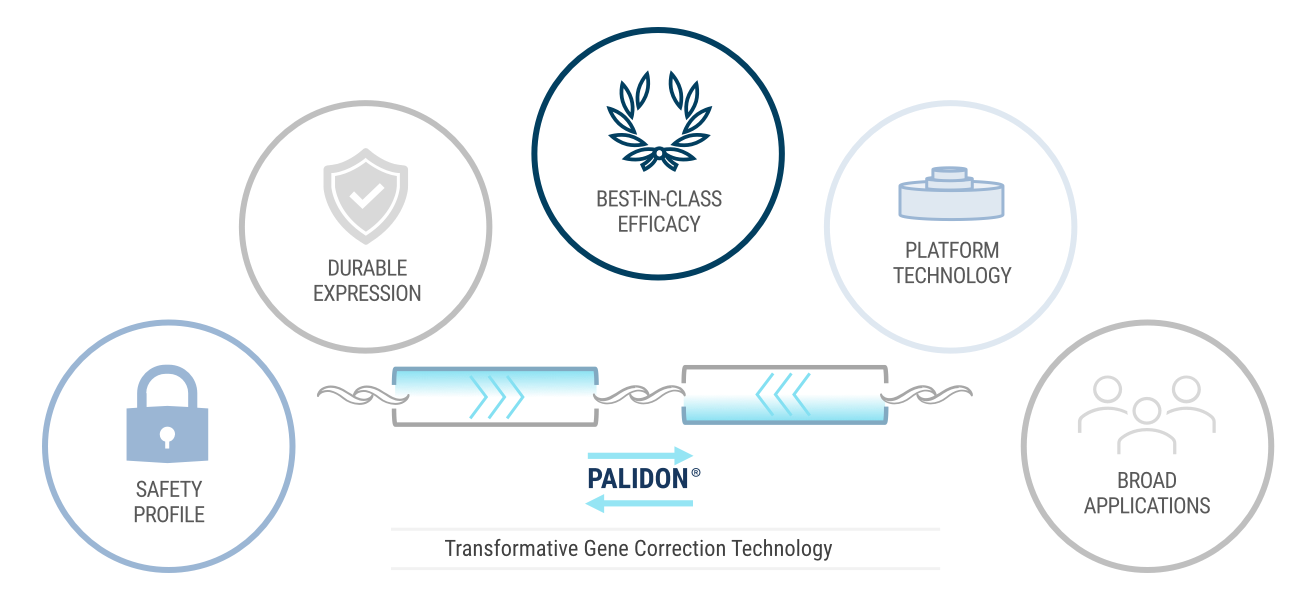 Best-In-Class Efficacy: the palindromic design of PALIDON® enables high-efficiency gene correction in non-dividing cells.
Platform Technology: The broad versatility of PALIDON® unlocks a wide range of possibilities for correcting loss-of-function and gain-of-function diseases.
Safety Profile: The palindromic design of PALIDON® converts what was previously a byproduct (reverse integration) into a functional event that contributes to enhanced efficacy. By integrating PALIDON® within introns any potential error introduced by the NHEJ pathway can be tolerated thereby minimizing unwanted byproducts.
Durable Expression: PALIDON® is designed to edit genomic DNA providing stable and permanent lifelong edits. PALIDON® captures the natural expression of an endogenous gene, resulting in unsurpassable control of protein levels.
Broad Applications: Individual monogenic diseases can be caused by mutations at different locations within a single gene. PALIDON® can carry large corrective sequences enabling the development of a single therapeutic to treat large patient populations with the same monogenic disease.
Research and Development of Precision Gene Correction Technologies
BlueAllele is committed to build upon its gene correction technologies with a research and development program that seeks to combine the best of gene therapy and gene editing to treat some of the most devastating gain-of-function genetic diseases.
BlueAllele's proprietary PALIDON+ platform is in development and its features include:
Remove toxic mRNA/protein
Replace/preserve WT protein production
High-efficacy
Stable and durable
Permanent and lifelong
Other non-disclosed PALIDON® platform technologies are in research and development.
IP Portfolio Estate Covering Multiple Technologies
BlueAllele Corporation exclusively owns a broad IP portfolio estate covering transformative gene correction technologies, including PALIDON®.
60+

Patent applications filed since 2018 covering a wide range of gene correction approaches

2

Granted patents directed to the use of BlueAllele's foundational PALIDON® technology: U.S. No. 11,254,930 covers PALIDON® composition of matter and U.S. No 11,091,756 covers PALIDON® methods of use
Partnerships
BlueAllele's proprietary platform technologies for gene correction provide an opportunity to collaborate with partners who specialize in the development and commercialization of gene editing therapeutics. To learn more about partnering with BlueAllele get in touch.